Jeff Knight's 'Wishbones'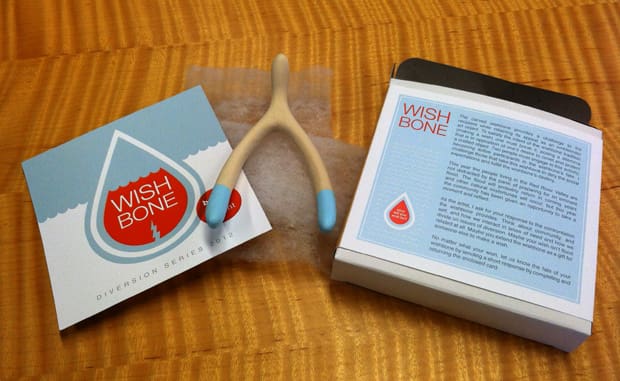 Stop in to the Museum in the next day or two to get one of these hand-carved, wooden wishbones created by Jeff Knight. Knight created these for PROJECT Flood Diversion, our series of interactive art works that pose questions, present ideas, and promote stronger community relationships around the topic of Red River flooding.
Knight created 150 wishbones and has been distributing them throughout the Fargo-Moorhead area, giving them to city workers and others who have fought flooding in the area over the past few years. A handful remain at our visitor's services desk.
From the "Wishbone" custom packaging, also created by Knight:
The carved wishbone provides a challenge to the recipient while retaining its appeal as an emblematic art object. To satisfy the intent of the wishbone tradition (making a wish), one must break it, posing a dilemma that is in opposition of one's desire to covet and protect a crafted object. Two people must engage in this activity, becoming active participants in the wishbone's fate. I challenge those that take this wishbone to defy the social expectations and fulfill the wishbone's destiny.

This year the people living in the Red River Valley are not distracted by the panic of preparing for an eminent flood. The flood will probably return in coming years and other natural misfortunes will occur, but this year the community has been given an opportunity to take a moment and reflect.

As the artist, I ask for your respone to the confrontation the wishbone provides. Think about community, and self, and how we interact in times of need and how we divide on issues of diversion. Maybe your wish isn't flood related at all. Maybe you extend the wishbone as a gift for someone else to make a wish.

No matter what your wish, let us know the fate of your wishbone by sending a short response by completing and returning the enclosed card.