Cayla Skillin-Brauchle
May 7 – 11, 2018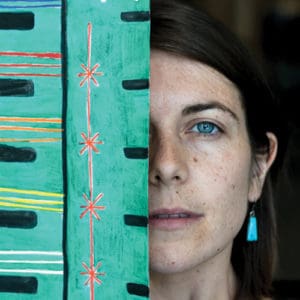 Cayla Skillin-Brauchle has exhibited drawings, prints, installations and performance art internationally at venues including Rotunda Gallery in Bangkok, Thailand, ROY G BIV Gallery in Columbus, Ohio, and Artspace Mackay in Queensland, Australia. Skillin-Brauchle has been an artist in residence at Iskra Print Collective, Vermont Studio Center, the Hambidge Center, Hypatia-in-the-Woods, PLAYA Summer Lake, and TEDxSalem. Skillin-Brauchle received a BA from Beloit College and an MFA from Ohio University, and was a 2012-13 Fulbright Fellow in India. Skillin-Brauchle is an Assistant Professor of Art at Willamette University in Salem, Oregon.
During her residency week, multimedia artist Cayla Skillin-Brauchle will collect data throughout Fargo-Moorhead-West Fargo. Her gathered data will inform the creation of a hand-drawn and screenprinted zine. Catch the artist and contribute to her data collection efforts at the following locations:
West Acres Mall: 8:30 – 10 AM, Monday, May 7
MSUM: 12 – 2 PM, Monday, May 7
Moorhead Dairy Queen: 2:30 – 3:30 PM, Monday, May 7
Sons of Norway: 11 AM – 1 PM, Tuesday, May 8
Downtown Fargo: 3 – 5 PM, Tuesday, May 8
Wednesday, May 9, TBD
Zine Launch Party / Artist Talk
Thursday, May 10, 6 – 8 PM
Free
Celebrate the launch of Cayla Skillin-Brauchle's zine, a compilation of hand-drawn visualizations of her collected data from the metro area. Learn about and pick up a copy of the zine the artist creates during her residency. The first 30 visitors can pull a screenprinted design by the artist.
Cayla Skillin-Brauchle: STAT!
March 22 – May 31, 2018
Creativity Gallery
STAT! investigates the relationship between our lived experiences and the data and statistics that are used to describe those experiences. Inspired by infographics and visualizations of data, Cayla Skillin-Brauchle explores the aesthetics of data in a time when the dissemination of information is acutely political. STAT! encourages viewers to consider how data is used to build a collective version of truth.
John Hitchcock
June 4 – 9, 2018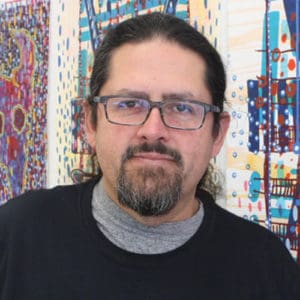 This summer, we welcome Comanche/Kiowa/Northern European artist John Hitchcock as our Creativity Among Native American Artist, artist in residence. During his residency, Hitchcock will produce a series of monotype prints using stone lithograph key images. Print Manager Amanda Heidt and two apprentices will work and assist John in the studio. The public is invited to stop in and meet the artist in Hannaher's Print Studio during his residency. Hannaher's Inc. Print Studio hours: 11 AM – 5 PM, Monday – Saturday
John Hitchcock is an artist, professor, and Associate Dean of Arts at the University of Wisconsin–Madison. He earned his MFA at Texas Tech University, Lubbock, Texas. Hitchcock's work has been exhibited at numerous national and international venues, including the 2011 Venice Biennale in Vienna, Italy, the Robert Rauschenberg Project Space in New York, The Vienna Künstlerhaus in Vienna, Austria, and The Museum of Contemporary Native Arts in Santa Fe, New Mexico.
Creative Voices Talk: John Hitchcock
Thursday, June 7, 6 – 7 PM
Free
Artist in residence John Hitchcock will present an overview of his artistic practice, including the series Protectors and Flatlander: Belonging to the Land, on view at Plains Art Museum.
Print Blitz! Alternative Methods to Screenprinting
Tuesday, June 26 & Wednesday, June 27, 5:30 – 9 PM
Investigate the current trends of print media in contemporary culture and get the tools you need to make your own artistic statement with Wisconsin-based visiting artist John Hitchcock. This workshop focuses on water-based photo screenprinting techniques as well as low-tech stencil printing methods. Participants will use acrylic screen printing ink with a variety of papers, wood and fabric, photo emulsion, drawings and computer-generated graphics as preparatory artwork. Participants may bring inkjet ink images and drawings, prints, or other images to be transferred into screens, various types of paper, wood (birch, MDF, pine, etc.), and fabric. $45 / $36 members / Free for Native Artists, contact Laura Youngbird at lyoungbird@plainsart.org
Artists in Residence are generously sponsored by the Bush Foundation.