Tim Kowalczyk
February 12 – 16, 2018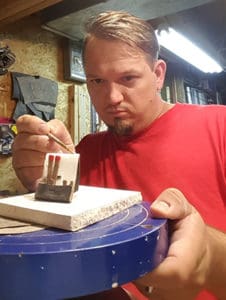 Tim is known for his keen use of texture and surface treatment to create fascinating trompe l'oeil ceramic sculptures and useable wares that appear to be made from other everyday objects and materials. In his words, "I make stuff out of stuff that looks like other stuff. Pathetic, absurd, antiquated, banal or even garbage are words that best describe the objects I am drawn to. These types of objects hold my attention because of the stories they can tell and what they can mean."
During his residency week, Tim will be sharing his process with us by working on more of his sculptural work as well as his well-known "cardboard" mugs. Times for free public observation of demonstrations will be posted on plainsart.org.
Tim's exhibition at Plains Art Museum in the Center For Creativity will feature series of trompe l'oeil ceramic works entitled How Great I Am. This series of sculptures and cups is based on quotes and references from Muhammed Ali's legendary poetic trash talking prior to his "Rumble in the Jungle" fight with George Foreman.
Since graduating with his MFA from Illinois State University in 2011, Tim has maintained an active studio practice from his home in Minonk, Illinois. He has taught at Illinois Community College, Kankakee Community College, and at University Illinois Springfield.
For the past 8 years Tim has participated in a steady stream of juried, group, invitational, and solo exhibitions. He has received several awards including the Presidential Scholarship at Anderson Ranch Arts Center, Merwin Medal: McLean County 82nd Annual Amateur Show, and Best of Show: Water Street Studios Anniversary Show. Tim's work can be seen in private collections, University collections, and in a recent American Craft Magazine article. Tim is pursuing being a full-time studio artist starting in January of 2018
Tim's work has been featured on Colossal by Kate Sierzputowski, Ripley's Believe It Or Not, TwistedSifter, BoredPanda, HOMECRUX by Monica Thakur, DeMilked,FactRiver by Tiffany, Nifymag.com, Whizual by Igor Stankovic, Laughing Squid by Lori Dorn, Cultura Inquieta, and Inceredibilia by Graziella Guglielmino, and was named 1 of 11 Innovative Ceramic Artists Breathing New Life into an Age-Old Art by mymodernmet.com's by Stephanie Chang.
Artist in Residence Workshop
Two-day class: Monday and Wednesday, February 12 & 14, 6 – 9 pm
Tim will demonstrate his unique construction process of using paper clay to form layers of his signature trompe l'oeil cardboard, then forming those layers into different objects such as plates, bowls, cups and mugs. Tim will also demonstrate materials preparation and image transfer techniques. Participants will be able to try out the techniques for themselves and produce an object to keep! $50 / $40 members.
Artist Talk: Thursday, February 15, 6 – 7 pm • Free
Artists in Residence are generously sponsored by the Bush Foundation.