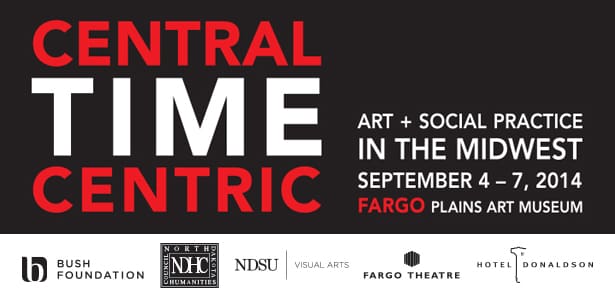 Plains Art Museum will host Central Time Centric, a landmark symposium, on September 4-7, 2014, in Fargo, N.D. Socially engaged art has gained recent momentum, though it has long roots in community arts, social and political movements, feminist art, and more. For both artists and arts organizations, social engagement is a means to increase relevance, effect social change, and utilize the qualities of art and the skills and concerns of artists to engage the public and address community issues.
Hear from a distinguished group of socially committed artists and arts leaders working to build a more connected network and community of practice in the Midwest.  Participants will take part in conversations about the role of artists in communities, the most effective ways of doing this work, and the histories that converge today that underpin and inform this work, among other issues.
We invite artists, arts leaders, curators, faculty, students, and others interested in exploring the role of art in social change, environmental issues, community development, and strengthened human connections. Visitors to Fargo will have opportunities to learn about one of the fastest growing small cities in the country and meet our creative community.
Attendees will have free admission to the symposium opening event, Walker Art Center's 2014 Internet Cat Video Festival. The screening is on Sept. 4 at 7 p.m. at the Fargo Theatre with pre-screen events starting at 6 p.m.
For more information and registration, visit the Central Time Centric symposium page http://plainsart.org/learn/public-programs/central-time-centric-symposium/ on our website. For questions, contact Karis Thompson, community engagement liaison, at kthompson@plainsart.org or 701.551.6101.  Plains Art Museum is located at 704 1st Avenue North, Fargo, N.D., www.plainsart.org.
The symposium is $50 ($40 for Museum members and $20 for college students)
Keynotes
Christine Baeumler, University of Minnesota-Twin Cities
Jackie Brookner, New York City and Fargo
Roger Cummings, Juxtaposition Arts, Minneapolis
Rick Lowe, Project Row Houses, Houston
Michael J. Strand, North Dakota State University, Fargo
Panelists and workshop facilitators
Cameron Cartiere, Emily Carr University of Art + Design, Vancouver, B.C.
Julia Cole, Charlotte Street Foundation, Kansas City
Juan Williams Chávez, Pruitt-Igoe Bee Sanctuary, St. Louis
DeAnna Cummings, Juxtaposition Arts, Minneapolis
Jim Duignan, Stockyard Institute, Chicago
David Dunlap, FYLFOT Fellows Correspondence Club and PAINTALLICA, Iowa City
Matthew Fluharty, Art of the Rural, St. Louis
Sam Gould, Red76, Minneapolis
Wing Young Huie, The Third Place Gallery, Minneapolis
Colin Kloecker and Shanai Matteson, Works Progress Studio, Minneapolis
Nicolas Lampert, University of Wisconsin – Milwaukee
Su Legatt, North Dakota State University, Fargo
Sandra Menefee Taylor, artist, St. Paul
Jay Salinas, The Wormfarm Institute, Reedsburg, WI
Abigail Satinsky, incubate and Threewalls, Chicago
Sarah Schultz, Walker Art Center, Minneapolis
Colleen Sheehy, Plains Art Museum, Fargo
Brittany Sickler, U.S. Small Business Administration, Fargo
Sandy Spieler, In the Heart of the Beast Mask and Puppet Theatre, Minneapolis
Scott Stulen, Indianapolis Museum of Art
Karis Thompson, Plains Art Museum, Fargo
Daniel Tucker, Never the Same, Chicago
Jesse Vogler, The Institute for Marking and Measuring, St. Louis
Dan S. Wang, Compass, Madison Mutual Drift, Red76, Madison, WI
Chaun Webster, Ancestry Books & Free Poet's Press, Minneapolis
Mark Weiler, ecce gallery, Fargo
Watie White, artist, Omaha, NE
Laura Zabel, Springboard for the Arts, St. Paul
Heather Zinger, Sanford Health, Fargo and Springboard for the Arts, Fergus Falls, MN
Central Time Centric is supported in part by grants from the Bush Foundation's Community Innovation Program and the North Dakota Humanities Council, a nonprofit independent state partner of the National Endowment for the Humanities, and by co-sponsorships with the Fargo Theatre, Hotel Donaldson and the Department of Visual Arts, North Dakota State University.
Living as Form (The Nomadic Version) is on view June 12 – September 14, 2014. Co-organized by Creative Time and Independent Curators International (ICI) with Nato Thompson as lead curator, with additional regional projects curated by Colleen Sheehy and the Living as Form project team at Plains Art Museum.
View Event