From the Curator: An Unveiling at the NDSU Ceramics Department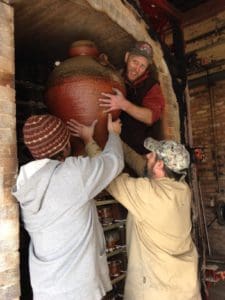 Hello from your new Curator at Plains Art Museum! Earlier this week, a few of the Museum staff and I accepted the invitation of David Swenson, NDSU Associate Professor of Ceramics and Sculpture, and Daniel Siverson, NDSU Studio Technician, to watch them unload freshly fired ceramic wares from the Art Department's massive wood-fire kiln.
As an amateur ceramist, I readily welcomed this opportunity. And what an experience it was! Despite the encroaching wintry weather, it was a perfect sunny day to see David and Daniel carefully remove and inspect all of the objects, with assistance from an undergraduate ceramic student and members of the newly-launched post-baccalaureate ceramics program. It was especially memorable as one of the works unloaded was a large pot by Daniel that will be featured in the Museum's upcoming exhibition Red River Reciprocity: Contemporary Ceramics in Minnesota and North Dakota (Feb. 8 – May 11, 2014).
This exhibition is part of the Museum's new initiative to promote the education of and collecting and exhibiting of ceramics. We are partnering with Northern Clay Center in Minneapolis to showcase the amazing work local artists are making in ceramics, a medium that has a long, rich history in the region. With this exhibition, along with our ceramics facilities in the Center for Creativity and continued collecting of ceramic objects, the Museum is poised to become to a leader in the field.
Thank you to NDSU for including us in your unloading—we look forward to partnering with you and the other local schools on future projects!
Photo: Daniel Siverson, top, carefully removes a large pot he created from NDSU's wood-fired kiln with help from Michael Weiss, left, and David Swenson, right. The pot will be featured in a contemporary ceramics exhibition at Plains Art Museum, opening Feb. 8, 2014.