Giving Hearts Day is February 14!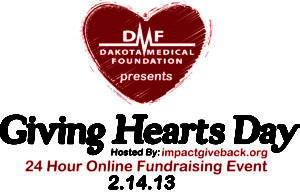 Support the Arts on Giving Hearts Day!
The Plains Art Museum is collaborating with Theatre B and the F-M Opera for support of the three downtown arts organizations that are participating in Giving Hearts Day. Giving Hearts Day is a 24-hour fundraising event started by Dakota Medical Foundation and Impact Foundation to raise funds for non-profits on one day – Thursday, February 14th. With your help, the museum can raise a tremendous amount of funding to support art education at the Museum.
On Thursday, February 14, we invite you to give from the heart by donating to the Plains Art Museum. All donations of $10 or more will be matched, up to $8,000.
How to donate:
Donate online! Visit impactgiveback.org to make a secure online contribution. Donations are accepted from 12 AM – 11:59 PM.
Stop in to the Plains Art Museum from 8 AM – 9 PM to make a donation in person! We will have table set up inside the Museum for donations to be taken onsite.
We are also hosting a noon Valentine's concert with Darin Henze and Friends, so we invite you to come enjoy some music and grab lunch from the Café!
Any person who donates at least $10 in person to all three organizations (Plains Art Museum, Theatre B, and the F-M Opera) will receive a gift bag with tickets to all three organizations and a Museum t-shirt! Donations can be made in person at any of the three locations.
Additionally, anyone who donates $50 or more to the Plains Art Museum will receive a clay heart made by local children during our "Making Hearts Day" event that was held on MLK Day.
Here are some specific examples of how your donation can directly impact the Museum's educational mission:
$50 pays for clay supplies for ten students
$100 pays for electricity and gas for the kilns for two months.
$250 pays for a teen art-making event.
$500 pays for weekend access to the Center for two weeks.
$1,000 pays for 100 children to take part in one Kid Quest.
A gift of any amount is greatly appreciated. Thank you for supporting the Plains Art Museum and our commitment to providing art education to our community!
Written by Savanna, Plains Art Museum Communications Intern