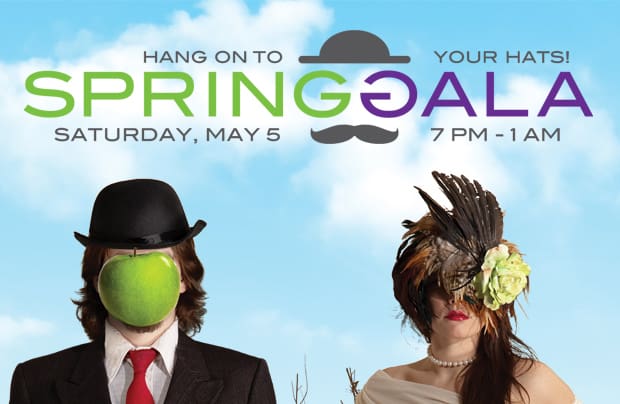 Around the Museum, the Spring Gala is an exciting time. Not only are we about to throw one of the F-M area's biggest bashes, but we're also getting ready to see months of planning and hard work come to fruition, with all of it benefiting the Museum in the process. This year's theme, "Hang On to Your Hats!", has provided the biggest charge to this year's Gala planning. We've seen some good Facebook buzz already, with plenty of you preparing your own one-of-a-kind entries into what will most assuredly be a hat display to end all hat displays.
If this is your first time attending, or if you'd like a refresher on what goes on, here's your field guide to the Spring Gala:
Expect plenty of art. The main event at each Gala, other than the fine folks you will meet and speak to, is our art auction. This year, we've outdone ourselves with over 100 works of art up for bid from 93 of our region's finest and best-known artists, plus plenty of work from emerging talent. It's a golden opportunity to add to your art collections, support the work of these artists, and support the Museum's mission to provide critical arts education. Plus, you'll get to take a look at new fashions from designers MeJeanne Couture.
Take a peek at the Gala art auction here.
Expect plenty of treats. This year's menu reaches new heights of tastiness, with food by Mosaic Foods, the area's largest wine tasting from Happy Harry's Bottle Shops, coffee by Dunn Bros. Coffee Co., and desserts by Nichole's Fine Pastry.
How about a photo of your special night? Did you work extra hard on that special hat? Is it like pulling teeth to get your significant other dressed up for a night on the town? Commemorate the evening with a special photo in our photo booth set up by our fine sponsors, Milestones Photography. Photos start at $10 for a couple, and you'll get your choice of a print or a digital file. All proceeds will go to the Museum.
Get your groove on. We're pleased to welcome the ear-catching tunes of Inside Out Strings as our first-floor entertainment this year. And, we're already exhausted from dancing the night away with area favorites Post Traumatic Funk Syndrome.
Have a great time. We've provided the setting, the tunes, the good food, and the wine … but the Gala really comes to life in the conversations you'll have and the camaraderie you'll share with your fellow Gala-goers. Come prepared to have a good time, and you will.
Thanks, and see you (and your hats!) on Gala night!