Holy Smokes! Drawing Comics course launches at Plains Art Museum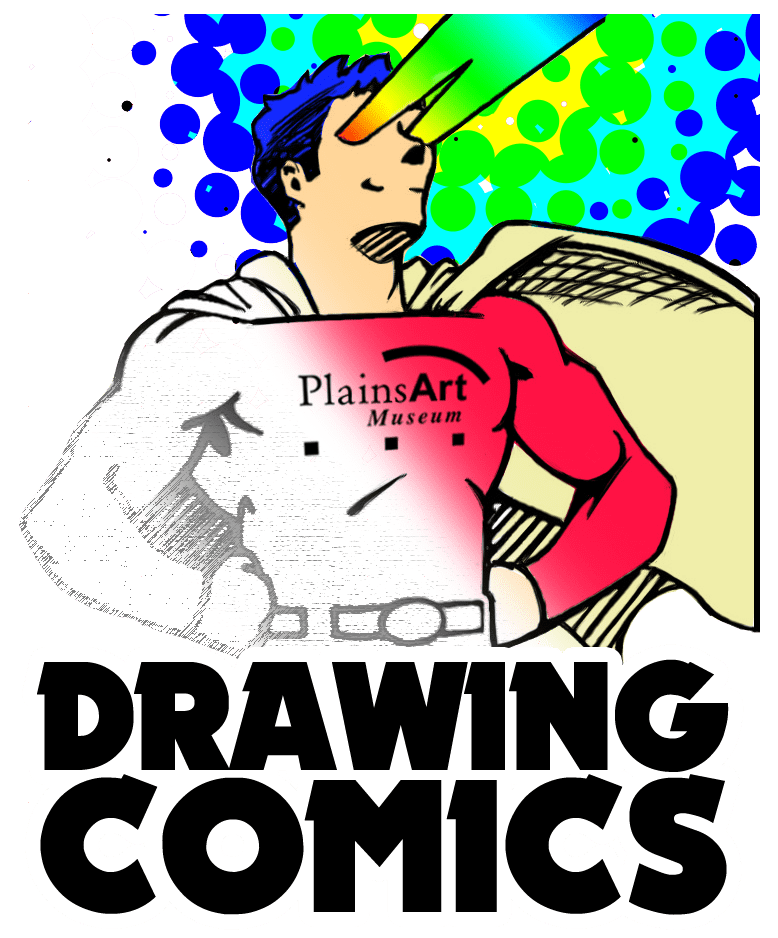 A dynamic trio of artists joins forces this summer at Plains Art Museum to debut Drawing Comics, an informal class and networking experience focused on graphic novels. Beginning June 12 from 5-6:30 p.m. and continuing on the second and fourth Thursday of each month until Sept. 25, aspiring comic artists will meet at the Museum's Center for Creativity to draw and discuss techniques, styles, and graphic novel concepts.
The instructors—John Berdahl, Zack Coleman, and Bill Thompson—all share the same super powers: finely honed drawing skills and a passionate love of comics. All three are also published illustrators and will share their expertise by providing demonstrations in drawing and inking, multiple media types, and laying out stories from script to page.
"Even though there is an instructor present, individuals are free to show up, work on their work as they see fit in a space filled with other illustrators, artists, and writers," says Berdahl. "If they choose to take some time to participate in the lessons that we offer, it's their prerogative."
He emphasized that a valuable aspect of each session is the ability for artists to assess their work, as well as the work of others, and participate in discussions of ideas in a supportive, open studio-style format.
"Comic books are one of the more pure pop expressions of the collective human imagination," Berdahl said. "They excite the kids. They elate the teens. They stir something in the adults that reminds them, 'Hey, life can be colorful, bizarre and, sometimes, fit into little boxes on the page!' We're structuring this guided class to be free-form and accessible to everyone who loves comics. So drop in, draw, get inspired, draw some more, and see where it takes you."
Drawing Comics
5 – 6:30 p.m. on second and fourth Thursdays of the month, June through September
$5 advance registration, $7 at the door
Register at http://plainsart.org/learn/art-experiences/ or with the specific session links below. Call 701-551-6100 for more information.
June 12 Session: Narrative
Host artist: Zack Coleman. What story do you want to tell? Learn to construct your story to its maximum potential, flush out your characters, find the audience you want, and decide how you wish the look/aesthetic of your story to be.
June 26 Session: Characters
Host artist: Zack Coleman. Explore the creation of characters in your story, including how their physical features describe their personality without words.  We will also consider the development of protagonist vs. antagonist and their continuity in the narrative.
July 10 Session: Places
Host artist: Bill Thompson. Whether on the planet Mars or in your own backyard, your setting is just as much a character as the characters themselves. Learn the tricks on how to frame your panels for the best dramatic effect and show what needs to be shown.
July 24 Session: Pencils and Panels
Host artist: John Berdahl. What's better to use: HB or Charcoal N? Come to learn the difference between tools of the trade, while developing a proper feel for pacing from panel to panel.
August 14 Session: Discussing Work
Host artist: John Berdahl.  Sometimes a second pair of eyes are what you need to push forward.  Sit down with peers and instructors to go over your material and critique what you've accomplished so far to see if you're getting the most out of your work or find out what you need to do to go further.
August 28 Session: Inking and Scanning
Host artist: Bill Thompson.  "Inking is just tracing, right?"  Find out what the professionals use and what may work for you, from traditional methods to more modern tools.  You will be introduced to many options for this difficult step in creating comics.
September 11 Session: Coloring
Host artist: Bill Thompson. Learn about using color to enhance your story – its mood, progression, and aesthetic.
September 25 Session: Publishing
Host artist: John Berdahl. "I've completed a comic, now what?" Thanks to technology, it's easier than ever to publish your work for all to see. Learn the rules of commissions and publishing and what's best for you.