"In Crypt" turns mundane into monumental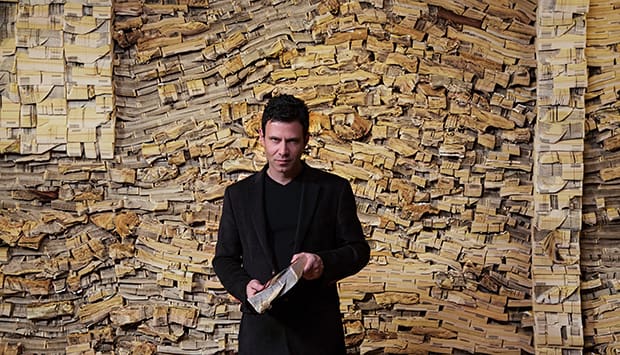 Making a Scene: Wischer turns page on household object
By John Lamb
The Forum, Nov, 17, 2014
Photo by Mark Anthony
Stephen Wischer has been letting his fingers do the talking. All summer he's been cutting and conditioning about 50 tons of discarded phone books in preparation for his installation at the Plains Art Museum.
The work, "In Crypt: On New Worlds Re-Ordered," features about 3,000 phone books stacked and screwed into the atrium wall, creating a surface that looks like an aged, crumbling brick wall. The grand scale of the construction plays against the flimsiness of the paper pages, and the nature of the phone tomes gives the artist plenty of platforms to dissect.
Wischer, an associate professor of architecture at North Dakota State University, cut through about 20 million phone book pages to give his wall the right look and feel.
"After they are destroyed, they become symbolic again," he says. "There is a vestige of culture, of future mortality, a memorial for the people within."
The work is up through Feb. 22.
Q: What's this project about?
A: One idea was to explore Vitruvius story of the coinciding development of language and architecture in contemporary terms by collapsing two fundamental units of Western civilization – books and bricks – into this ruinous wall.
As with any temple, always a larger symbol made from many smaller symbols, books have traditionally pointed beyond themselves as "containers" and "transmitters" of knowledge.
I have always been inspired by works that interconnect diverse cultural themes, and I wanted this installation to speak of many things simultaneously, things ancient and modern, mundane and monumental.
Q: Why telephone books?
A: Phone books are ideal to create these kinds of ironic tensions. Alone, phone books are recognizably about the efficient transfer of information and goods. In the installation, there is a disruption of the common association and use of these books, a transformation of standardized, everyday items into unique forms.
Encrypting the direct information of the books into the installation opens a space of interpretation. Now the familiar can be seen as many things.
Q: Why are some edges of the books more frayed or distressed?
A: The process was as much destructive as creative. Many books were left outside over the summer, so they took on various patinas. Others were cut with a saw.
Either way, this has much to do with ruins – ones created by nature or human-made ones. Having these opposites present draws various references into the work and helps to affect the experience of time. One always feels time is different in the presence of a ruin. The phonebooks are also ruins, becoming an obsolete form of communication.
Q: Why do some areas seem more orderly, more neatly stacked and others seem more loosely stacked?
A: Things can only appear to fall over when they are in the context of something stable. Juxtapositions create uneasy tensions among references.
For example, the stacked bricks don't really align with the bendable materiality of paper or the geological feeling of the wall. The perishable properties of paper contrast with the perceived sturdiness and brittleness of masonry. It's about integrating opposites.
Q: Why is there blood on some of the books?
A: Sacrifice and warfare are part of the brutal beginnings of all religions and civilizations, and the reason much architecture was created. The blood used for this installation is no longer "sacrificial" but rather a byproduct of our consumerist culture, the productive blood of fast food, for example. It seems that, in a hidden way, brutality is still very much part of who we are. The cow's blood is used to collapse references between then and now, to see similarities in what initially appears to be different.
If you go
What: Stephen Wischer's installation, "In Crypt: On New Worlds Re-Ordered"
When: On display during regular museum hours through Feb. 22
Where: Plains Art Museum, 704 1st Ave., N., Fargo
This exhibition is supported in part by hibu/Yellow Pages