Juried Cat Video Festival is catnip to museum audiences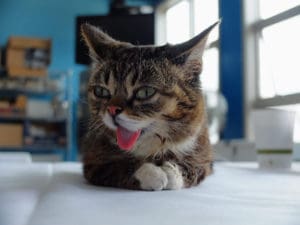 "Grumpy Cat," "Lil Bub," "Pudge" and "Henri" are names of just a few celebrity cats made famous by videos on YouTube. The cats are a viral phenomenon, and now they are part of an art museum's repertoire to expand audiences.
It's a fascinating new development in museum circles, spearheaded by the Walker Art Center in Minneapolis. I saw these celebrities in person – and their videos – at the Minnesota State Fair in August, when the Cat Video Festival played to an audience of 10,000 in the fair's grandstand.
Usually the paragon of cutting edge art, WAC lately has become known across the nation and even internationally for this unexpected hit. The Cat Video Festival was developed by the Museum's education staff as part of their new initiative called Open Field, with fun activities for the public taking place in the museum's outdoor spaces, including the Minneapolis Sculpture Garden.
First organized a year ago, the Cat Video Festival started innocently enough as a fun way to close the 2012 season of Open Field with an outdoor movie screening. Rather than anything avant-garde, WAC staff decided to feature a popular art form – YouTube videos that people make of their cats doing funny things. Some of these are bona fide short movies with plots, characterizations and voice-overs. The museum solicited submissions from around the globe, juried the submissions, and planned to present the best ones.
To their surprise, 10,000 people showed up. Some brought their cats. Some painted their faces to look like cats. Others wore cat costumes. Everyone was flabbergasted at the turnout. It was a super fun evening of people being together outside on a warm night. They laughed their heads off together. A phenomenon had been born.
Front page of the Arts section in the New York Times shortly followed, then an invitation for Scott Stulen from the WAC staff to speak about the festival at South by Southwest in Austin, Texas. Then came an invitation to do a TED talk. Taking it to the Minnesota State Fair as a grandstand show was a logical next step.
On a serious note, the Cat Video Festival is a lighthearted way to reach out to diverse audiences to get more people involved with museums. And you can look at these shorts as homemade art. The project is an effort to bring people together offline, together in the same venue. Funny is more funny when laughing with 9,999 other people than alone on your computer screen or cellphone.
I'm happy to report that, at Plains Art Museum, we are talking with Stulen and others at WAC about showing the Cat Video Festival in Fargo a year from now. It would be tied to an exhibition and conference that highlight artists working with communities.
Get your cat videos ready! Get ready to get together for a good laugh about our feline companions and the people who love them.
NxNW is an occasional arts and culture column written for The Forum by Colleen Sheehy, director and CEO of the Plains Art Museum.
Photo Credit: Meet Lil Bub by Paul Schmelzer