Kid Quest Starts Another Great Year, Thanks to Xcel Energy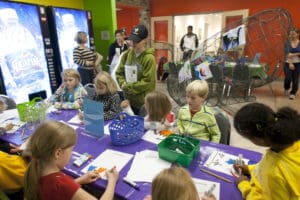 The first Kid Quest for the 2013-14 season kicked off in October in a big way.  More than 250 kids and family members visited the Moby-Dick-inspired exhibitions by T.L. Solien and Kim Bromley, and then collaborated on a community art project featuring an eight-foot-long wire whale sculpture constructed by Dwight Mickelson. Children drew images of their own adventure stories, which were used to create a colorful paper maché covering over the whale's metal framework.  The finished whale is on display at the Center for Creativity.
To help make Kid Quest a free program, Plains Art Museum received a generous $10,000 grant from Xcel Energy this fall. The grant also will allow the Museum to offer a gallery and studio program for teens in the coming year. Kid Quest is held on the first Saturday of the month from October through April, and also is supported in part by Minnesota Public Radio and The Village Family Magazine. The monthly event offers children and parents the opportunity to explore in the art galleries and then participate in creating an art project together at the Katherine Kilbourne Burgum Center for Creativity, the Museum's studio and education wing. More than 2,000 youth and adults attend the free Kid Quest programs each year.
"We're thrilled to have this continued support from Xcel Energy. It's so important for families to have opportunities to nurture creative skills and thinking in children, as Kid Quest does," said Museum CEO and Director Colleen Sheehy. "Xcel's support allows us to offer Kid Quest for free to all, no matter the financial capacity of families." Xcel Energy's grant is part of the company's corporate giving Arts focus area, which supports nonprofit organizations like Plains Art Museum that foster creation and access to arts and culture.
For more Kid Quest events and registration, check here.
Photo by Milestones Photography