Museum offers free toy theatre workshop in July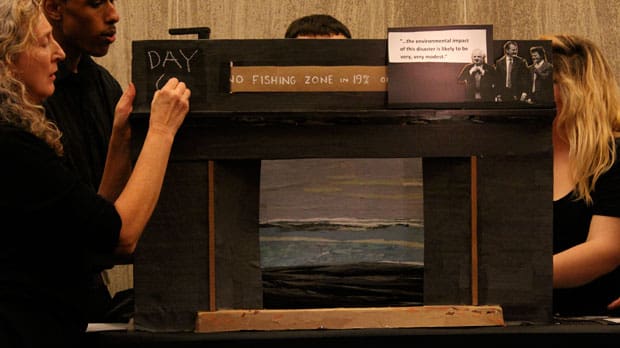 Plains Art Museum is offering a free toy theatre workshop on July 14 – 17 led by Sandy Spieler, the artistic director of In the Heart of the Beast Mask and Puppet Theatre in Minneapolis. The workshop is designed for ages 16 and up, and is open to teachers, visual and theater artists, and anyone interested in learning, creating, and performing.
All workshop participants will receive a letter of participation that can be used for recertification purposes. The workshop runs Monday, July 14, to Thursday, July 17, 9 a.m. – 4 p.m., with a public performance on the evening of July 17 at 7 p.m., as part of the Museum's Living as Form artist-in-residence series.
Participants will build small tabletop stages for performances that explore the theme of oil and water in Spieler's production of Its Presence Reaches Everywhere. Spieler directs In the Heart of the Beast's main stage productions and orchestrates its iconic May Day Parade and Festival, which attracts 35,000 people each year. She has directed events in South Korea, Los Angeles, and the Dominican Republic, and led residencies throughout the region.
The workshop is free of charge but advance registration is required before July 10.
Above: Artist Sandy Spieler with students at Southern Illinois University working on a toy theatre stage related to the Gulf oil spill. Photo courtesy the artist, 2012.
Support for the Plains Art Museum's presentation of Living as Form and related programming is supported in part by a Bush Foundation Community Innovation grant and the North Dakota Humanities Council, a nonprofit, independent state partner of the National Endowment for the Humanities. Any views, findings, conclusions, or recommendations expressed in the exhibition and programs do not necessarily reflect those of the North Dakota Humanities Council or the National Endowment for the Humanities.