Plains Art Museum CEO accepts arts leadership role in Twin Cities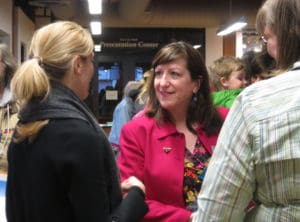 The bad news: Colleen is leaving us for the big city. The good news: She's giving us lots of lead time, up to October. She's done amazing things for Plains Art Museum, and we are grateful. Definitely a "glad for her/sad for us" kind of day. Here's the official story:
Plains Art Museum Director/CEO Colleen Sheehy has accepted the role of president/executive director of Public Art Saint Paul, an arts organization that guides public art projects and programs in Minnesota's capital city.
The appointment starts July 1 and will initially be part-time until early October, allowing Sheehy to complete projects and lead through this transition period at the Museum. Following Sheehy's departure in October, Museum CFO Mark Henze will assume the duties of interim CEO until a new leader is on board. Sheehy started with Plains Art Museum in 2008, and previously was the education director at the Weisman Art Museum at the University of Minnesota in Minneapolis.
"I care deeply about Plains Art Museum and the Fargo-Moorhead community.  It's been a wonderful journey for seven years, working with our board, staff, donors and supporters, artists, and other area organizations," Sheehy said. "Over the next few months, I'll be preparing for the Museum's upcoming 40th anniversary in October, opening a major show of Picasso ceramics."
Under Sheehy's leadership, the Museum completed a major capital campaign, installed a newly commissioned mural by famed pop artist James Rosenquist, and opened the Katherine Kilbourne Burgum Center for Creativity in 2012, a 25,500-square-foot addition. The Museum was recently named 2015 Not-for-Profit of the Year by the Fargo Moorhead West Fargo Chamber of Commerce.
"Colleen has been a stellar CEO for the Museum and we're going to miss her greatly," said Carol Rogne, Museum board chair. "Plains Art Museum has gained so much under her leadership, from expanded facilities and programs, to major foundation grants and heightened recognition as a progressive arts organization. We wish her the best in her new role."