Toward the Setting Sun inspired by classic and contemporary novels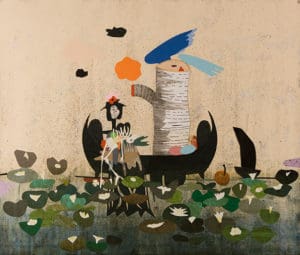 Art with a twist: the opening reception for T. L. Solien's new show features music, food, and refreshments, including a special "Moby-tini" martini created especially for the event, which takes place from 7:30 to 10:30 p.m. on Saturday, Sept. 21st. On Sunday, Sept. 22, from noon to 10 p.m. the Museum becomes the site for 60 narrators participating in a marathon read of Moby-Dick, the initial inspiration for the Toward the Setting Sun exhibition, which runs through January 12, 2014.
Solien began this series in 2003 after reading Herman Melville's classic 1851 novel. He was struck by how the main character, Ahab, is so hell-bent on destroying the great whale Moby-Dick that his fanatical obsession leads him and his whaling crew to ruin. Solien identified with Ahab's tragic flaws and recognized patterns that are deeply ingrained in American history and culture, and set about exploring the novel's themes and characters in visual form. This led him to the 1999 novel, Ahab's Wife, or the Star-Gazer, by Sena Jeter Naslund. He shifted the focus of his visual art to Ahab's wife, who became his main character, "an Every Woman," who travels through history and geography, moving beyond the narrative of the novel. In Solien's hands, Ahab's wife reinvents herself in different settings and professions, adapting to her circumstances rather than imposing her will on the world, as Ahab strove to do.
In collaboration with many community partners, Plains Art Museum is hosting several related events that correspond to the T. L. Solien: Toward the Setting Sun exhibition. The Museum partnered with the public libraries in Fargo, Moorhead, and West Fargo to promote the "Three Communities, Two Books, One Art Exhibit" project, encouraging people to read Moby-Dick and Ahab's Wife in anticipation of the exhibition opening. Events in the coming weeks include lectures, workshops, book discussions, performances of the opera Moby-Dick by Fargo-Moorhead Opera, and a visiting author series in partnership with North Dakota State University featuring Sena Jeter Naslund, bestselling author of Ahab's Wife. In addition, special screenings of movies that inspired the Solien exhibition will be held at area libraries and the Fargo Theatre. All events are free, except where noted. The full schedule of events is available at Plains Public Events and 321fm.org/events/.
T. L. Solien, Waterlilies, 2007 Mixed media on paper 30 5⁄8 x 35 1⁄2 in.