VIVID exhibition features inspiring creative works by Seth Chwast and Dietrich Sieling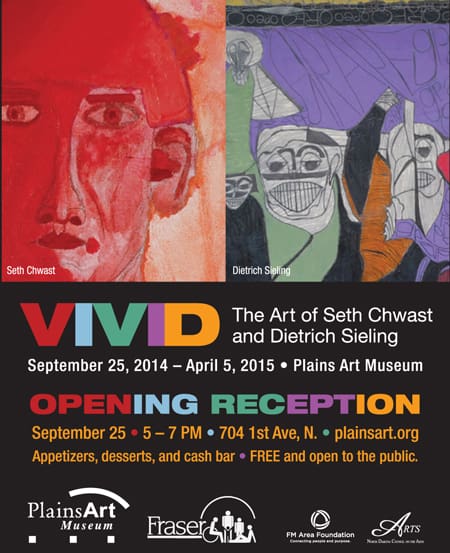 A new show opening at Plains Art Museum in collaboration with Fraser, Ltd. features two accomplished artists who share vivid styles along with personal histories of autism. VIVID: The Art of Seth Chwast and Dietrich Sieling opens Thursday, Sept. 25, with a reception from 5 to 7 p.m. The reception is free and open to the public, with light appetizers, desserts, beverages, and cash bar. The show runs through April 5, 2015.
Chwast, 31, from Cleveland, Ohio, and Sieling, 26, from Minneapolis, Minn., are both full-time prolific artists who exhibit their works regularly in solo and group shows nationally and internationally. VIVID focuses primarily on the artists' paintings, drawings, and sculpture. United in their strong emphasis on the formal qualities of line, color, and pattern, these young artists also share a stunning inventiveness in subject matter. Both artists also have mothers who are strong advocates for their sons, who have each found ways to document their families' respective stories to share how discovering innate talents has allowed their sons to lead full, creative lives.
Debra Chwast produced a short documentary on her son's experiences which led to appearances on the Today Show, NPR and PBS, as well as solo exhibits. She has also published a memoir of their journey, "An Unexpected Life: A Mother and Son's Story of Love, Determination, Autism and Art."  The Chwasts will hold a book signing at the Fargo Barnes & Noble on Sept. 24 from 4 to 6 p.m., as well as a presentation on Sept. 25 from 11 a.m. to noon at the NDSU Renaissance Hall, which is free and open to the public.
Sieling's mother, Shelli Ainsworth, is a long-time filmmaker who wrote and directed "Stay Then Go," a feature film released in 2014 inspired by their relationship. Filmed in Minneapolis, the fictional movie portrays a mother learning to adapt to her son's autism. Ainsworth's short films have appeared on PBS and at festivals and museums worldwide, and she is the recipient of grants and fellowships from the NEA, ITVS and the Bush, Jerome and Mc­Knight Foundations. "Stay Then Go" received the Pioneering Women in Screenwriting award at the 2014 Los Angeles Diversity Film Festival.
Plains Art Museum is organizing the VIVID exhibition together with Fraser, Ltd., North Dakota's longest-serving nonprofit organization which provides programs, services, and support to children, youth, and adults on their life journeys to independence.
This project is supported in part by FM Area Foundation, TransCanada, and the North Dakota Council on the Arts, which receives funding from the state legislature and the National Endowment for the Arts. Additional support is provided by the Ramada Plaza Suites and Conference Center.