Welcome to Curator Becky Dunham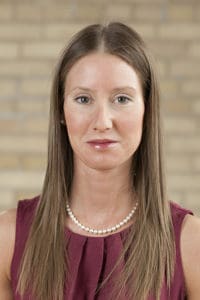 We are pleased to announce an exciting addition to our Museum team with the appointment of Curator Becky Dunham. In this leadership role, she will organize museum exhibitions, direct the development of the Museum's permanent collection, and serve as a key liaison to artists, scholars, and other museum professionals regionally and nationally. "Becky brings extensive experience in organizing exhibitions that are solidly grounded while also appealing to the public, and she excels at working with a permanent collection," says Museum Director and CEO Colleen Sheehy. "She is excited to join our community engagement work, too, and is already getting to know many artists in Fargo-Moorhead."
Prior to joining the Museum in early October, she was on the curatorial team for five years at the Museum of Fine Arts, Houston, working in the departments for Prints and Drawings, and for Modern and Contemporary Art. She has also worked at the Museum of Art and Archaeology in Columbia, Mo., and interned at the Samuel P. Harn Museum of Art in Gainesville, Fla.
Becky pursued Ph.D. studies at the University of Missouri, Columbia and earned her master's degree in art history from the University of Florida, Gainesville, and her bachelor's degree in art history from the University of North Carolina, Chapel Hill. In addition to her curatorial experience, she was an adjunct professor of art at Houston Community College and also taught courses at the University of Missouri and the University of Florida.
"I am honored to be joining the talented and enthusiastic team at Plains Art Museum, and I'm excited to explore and become an active member of the Fargo-Moorhead arts community," Becky said.  As a works on paper specialist, she admires the Museum's history and commitment to collecting and displaying prints, photographs, and drawings as well as works in all media. "I hope to contribute to this and cultivate the innovative spirit of the region by programming stimulating exhibitions reflecting a wide variety of contemporary art practices," she said.
"The Museum's state-of-the-art educational and studio facilities will also be a daily inspiration as I collaborate with PAM staff to engage the public and foster a deeper appreciation and understanding of the visual arts.  With such exceptional universities in the F-M area, I look forward to working closely with professors and art students both inside and outside of the Museum."
A "Meet the Curator" reception will be held in mid-January.