You're Our Story
As another year draws to a close we thank you. Plains Art Museum is not just a building, it is a living, breathing, and evolving part of our community – thanks to you! You're Our Story. We are nothing without your ideation, creativity, and support. How does the past year look to us? It looks great.
Throughout the next 90 days we are sharing statements from Museum leadership, Staff, as well supporters as we reflect on the past and look forward to the future. We are Your Art Museum and You're Our Story.
Donate anytime before December 31, 2022, to our end-of-year campaign.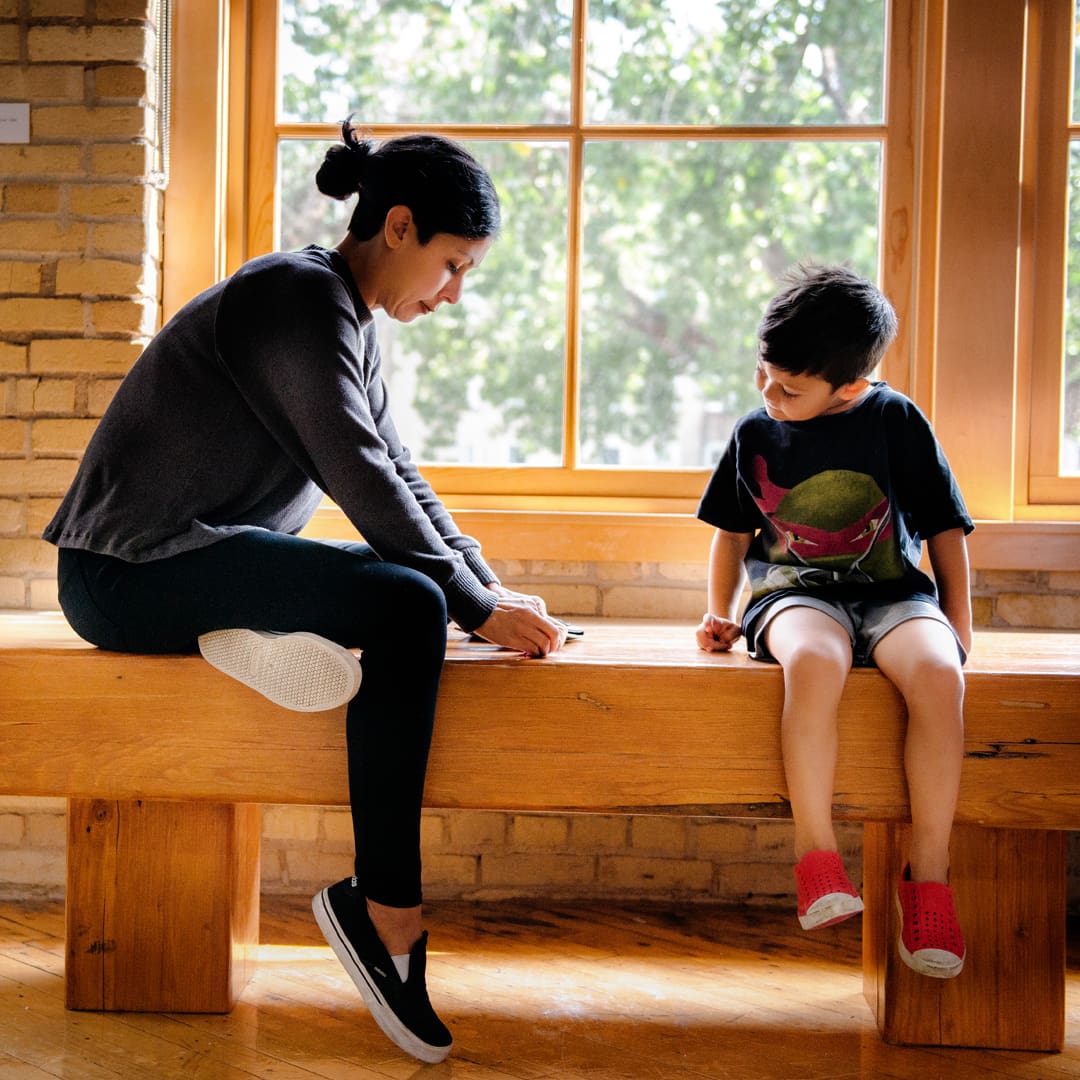 Time and experiences shape you. This is true for people and organizations, and it is what makes the end of the year such a vital time of reflection for all of us. 2022 has been a year of celebration for Plains Art Museum. We have been in our downtown facility for 25 years and have operated the Katherine Kilbourne Burgum Center for Creativity for 10 years. It has also been a year of incredible growth in our participation and attendance. By the end of 2022, Plains Art Museum will serve over 50,000 people throughout the year! Each one of these people takes something from their experience with the arts, too, and then we become a part of people's year-end reflection.
When I think about Plains Art Museum's year of engagement with all of these people, a few things stand out to me. For instance, Fargo-Moorhead values arts education in a big way – far more than many cities do. As a former Director of Education at the Museum, I am so proud that Plains Art Museum's educational programming has become so exemplary on a national scale. The largest areas of growth in the Museum's engagement are in art-making classes, educational podcasts, and community events outside our walls. More growth is possible, but in 2022, Plains Art Museum took a big step forward in its educational engagement goals.
Our community also values arts access, as well as quality, relevant contemporary art. Another area of growth in 2022 is in our exhibition audiences. This growth is made possible thanks to PlainsArt4All members and donors as well as an incredible curatorial team who organized and implemented exhibitions such as those currently on display: Waŋna niš niyepi ("Continuity of Culture"), Unseen Traces in the Work of Ann Johnson, and Hazel Belvo: Heart and Soul. To mark our 25th Anniversary in downtown Fargo, we also have on display Below the Surface which includes artworks chosen by our Teaching Artists from our permanent collection as well as a selection on loan from the Los Angeles County Museum of Art.
This work is led by an amazing and diverse team of 52 arts leaders working across seven departments in the Museum, the Katherine Kilbourne Burgum Center for Creativity, and our Defiant Gardens. I believe the role of the leader is to lift up those around them – their colleagues and communities. Adjacent to my work in leading your museum, another highlight for me, personally, this year was being invited to be the Alumni Keynote Speaker for the Commencement Ceremony at Minnesota State University Moorhead – my alma mater. In my talk, I shared some of my thoughts that push back on the idea of the ruggedly independent leader and instead, I encouraged graduates to move forward with critical awareness, creativity and generosity.
When you do your reflection of this year, I encourage you to think about those experiences that have shaped you, and also what you can do to shape our community. If your thoughts connect with Plains Art Museum, I am excited to meet with you to learn or share about our collective future.
Andy Maus, CEO and Director, Plains Art Museum 
Often people use the phrase "Think outside the box." and I have to admit, I feel like it's a phrase that feels empty maybe because it's so overused…and not taken. But in March of 2020 when the museum had to shutter its doors because of the pandemic I wanted to keep museum patrons engaged with Native American programming. I had an idea for an interview podcast but how do you apply an audio interview series in an organization that is primarily focused on the visual arts? Despite being at the museum for just over a year I had come to realize two blind spots in our exhibitions, we could provide great art, but limited information on the artist, the second is that we could at best provide two exhibitions a year which limits exposure to just a lucky few.
Therefore, the pandemic provided the opportunity for us to give a podcast a trial run, but I wanted to do one a week so we could connect with as many as artists as I could. The hope is we could do this for six months maybe in 20 years an academic from a university would find this and do a study on artists from our era. But slowly I came to realize people were listening, especially college students. Then the New York Times contacted me for an interview. I assumed it was a phishing scam and ignored it for a few days until I researched the reporter and realized she was on staff. The interview was much larger and expansive than what appeared in the Sunday edition on May 1, 2022, but it was clear there is interest in Native American stories and art. I asked the reporter how she heard about the podcasts and she said we're the only podcast doing features on Native American artists.
We've doubled our listenership every year, and after three years we have nearly 20,000 downloads, not only demonstrating the interest in Native American art, but it also places the podcast between the top 15%-10% or top podcasts weekly listenership. Finally, it feels good that Plains Art Museum is a national leader in showcasing Native American and Indigenous art at the high level it should be shown. Listen to 5 Plain Questions here.
Joe Williams, Director of Community Education & Director of Native American Programs
Hazel Belvo: Heart and Soul is the largest exhibition of Hazel Belvo's work in her lifetime. While not a full retrospective, this continuation of the Mothers of Invention series at Plains Art Museum works to represent the multiple facets and movements throughout Belvo's long held career as an artist. Largely spiritual, emotional, and feminine, the exhibition seeks to explore the various cycles Belvo creates in her bodies of work. From the cycle of life to death, or the cycles of mourning a loss, to the cycles of seasons, Belvo is intentional in her understanding of the regeneration of life and ideas. These various themes make their way through multiple series and grows upon one another as you walk through the gallery.
Heart and Soul goes beyond Belvo's art to further explore her various accomplishments in her life. From documenting her travels, to developing her career as an educator, to even her work in the feminist art scene starting in the 1960s, the variety of important accomplishments Belvo has made throughout her life are on display alongside her work. Belvo was among one of the early founders of the Women's Art Registry Minnesota (WARM) in the 1960s and contributed to both community building and gallery exhibitions during its lifetime. Heart and Soul holds both a recreation of an installation "Roots and Seeds" from a WARM exhibition Belvo participated in from 1978, as well as three self-portraits that had not been shown since they were produced for a WARM exhibition in 1984. These works among the many others on display reveal the love and dedication Belvo has put into her art practice and reveal an important history of women's art and organizing.
Being a part of this exhibition has been an honor. As a feminist historian myself, researching and working directly with Hazel Belvo has helped to expand my own knowledge of feminist organizing. She is a lifelong educator and I feel blessed by the information she has given us to help write interpretations and our upcoming catalog. To be able to bring work like this to Fargo and help better connect people to these histories as well as the philosophies and images within Belvo's work is by far the best part of working on this exhibition. People have told me how moved they feel by her work and I hope to continue this power into other exhibitions in the future.
Emma Tomb, Associate Curator of Exhibition and Collections