Mission
Plains Art Museum connects art, artists, and audiences to foster creative, resilient, and welcoming communities.
Vision
We envision communities where people are engaged in the creative process, and value and support the contribution of art and artists.
Learning
We respect the knowledge and experiences that visitors bring to the museum, providing an environment that links generations of life-long learners to the powerful experience of an art museum and creative art-making in order to develop 21st century skills of creativity, critical thinking, collaboration, and communication.
Access
We believe that creativity lives in all of us and we advocate for all by being accessible and welcoming in our programming and facilities.
Commitment
We believe in commitment to each other, our audiences, and our community by being respectful, good listeners, communicative, accessible, dependable, and responsive.
Stewardship
We strive to be good stewards of our relationships and our resources, including our collections, our financial assets, and our facilities.
Integrity
We operate with integrity by being accountable, transparent, honest, ethical, and professional.
Excellence
We strive for excellence by being innovative, reflective, rigorous, and attentive to museum research, and by adhering to high quality standards.
Dynamic Workplace
We promote and support a dynamic workplace by working as a team to be visitor-centered, adaptable to change, and results and growth oriented.
History and Facilities
Plains Art Museum began as the Red River Art Center in 1965 and was housed in the former Moorhead, Minnesota, post office. The Museum acquired its present name in 1975 and maintained residency in Moorhead until 1996. The Museum renovated a turn-of-the-century warehouse in downtown Fargo, North Dakota, and opened to the public in October 1997.
The redesign of the International Harvester (IH) branch house was directed by Hammel Green & Abrahamson, Inc., whose work also can be seen in the award-winning Minnesota History Center, the Walker Arts Center and the Minneapolis Institute of the Arts.
Plains Art Museum features 56,000 square feet of which 9,000 have security, climate, and light control properties. The building is fully accessible and contains the Hannaher's, Inc. Print Studio, The Dawson Studio, The Store, the Goldberg Art Lounge, meeting and reception space, frame shop, wood shop, visitor services center, performance areas and permanent collection storage and care areas.
The Katherine Kilbourne Burgum Center for Creativity is a multipurpose arts facility offering classes for the entire community, as well as studio and exhibition space for learning, discussion, and display of creative work. The Plains Art Museum's studio programs focus on developing people's potential for deeper learning and problem solving through 21st-century skills: creativity, collaboration, critical thinking, and communication. A skybridge connects the original museum building with this 25,500 square foot expansion.
The Museum is proud to have the Center for Creativity named for Katherine Kilbourne Burgum to recognize her pioneering work as an arts advocate and educator in our region. Her children Doug, Barbara, and the late Brad Burgum, have worked to advance her legacy and impact on the entire community.
Programs
The Museum offers approximately 12 special exhibitions along with smaller exhibitions each year. These exhibitions feature art of the 20th and 21st centuries. Classes, lectures, studios, collaborations with other disciplines as well as social events and performances complement the exhibition schedule.
Permanent Collection
Throughout its history, the Museum has collected, preserved, exhibited and interpreted art. Today, its permanent collection contains approximately 4,000 works including national, international, regional fine art, and ethnographic objects. 
Administration
Plains Art Museum is a non-profit 501 (c) 3 organization governed by a board of directors.
In Accordance with ND Charitable Games of Chance Administrative Rules effective April 1, 2016, General Rules Chapter 99-01.3-02-03 (4). Plains Art Museum membership may obtain information on the organization's total adjusted gross proceeds; cash profit; cash long or short; net proceeds; excess expenses; reimbursement of excess expenses; and eligible uses at 704 1st Ave. N., Fargo, from 10 am to 5 pm Monday-Friday.
Accreditation
Plains Art Museum is the largest and only accredited art museum in North Dakota, reflecting our "demonstration of the highest professional standards for education, public service and collections stewardship, and a commitment to continued institutional improvement." Less than 7% of American museums have the distinction of being accredited.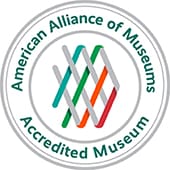 Diversity, Equity, Inclusion & Accessibility
Plains Art Museum connects art, artists, and audiences to foster creative, resilient, and welcoming communities. We exist in service to the greater good and a commitment to our values of Learning, Accessibility, Stewardship, Integrity and more. We live these values by: engaging with all communities to discover what they have to teach us, providing free general admission and working to break down other barriers to participation and belonging, providing transparent stewardship of our resources and the land that we acknowledge, and operating with a commitment to the needs of and respect for the knowledge of our audiences. Plains Art Museum recognizes that art can be a valuable means to build empathy and connection, enlighten audiences to buried histories or difficult realities, reveal injustice, and promote multiculturalism. We also recognize that when institutions see our implicit biases and our historical and contemporary roles in institutional racism, we begin to live our anti-racist aspirations. We advance our work through multiple initiatives that support and elevate the artwork and voices of Native Americans, people of color, women, and also that increase accessibility for people with disabilities.
Plains Art Museum Land Acknowledgement
Plains Art Museum is located within the sovereign lands of the Wičhíyena and Isáŋyathi of the Očhéthi Šakówiŋ Oyate and Aniibiminani-ziibiwininiwag. The Museum sits at the crossroads of the many gathering places and homes of these vibrant and resilient nations of the Aniibiminani-ziibiwininiwag and Očhéthi Šakówiŋ.
It is especially important to note the Plains Art Museum also sits on the shores of the Wakpa Sha and Kitchi-ziibi, also known as the Red River, a key trade and transportation route for countless original Nations going back several millennia. We honor the Očhéthi Šakówiŋ Oyate and Aniibiminani-ziibiwininiwag and will continue to seek and understand our place within this long tradition of custodial care upon this land and river.
Anishinaabe-akiing
Gichi-apiitendaagwad ji-gikenjigaadeg The Plains Art Museum ayaamagak omaa jiigiziibi, Wakpa Sha ezhinikaadeg Bwaanimong miinawaa Kichi-ziibi ezhinikaadeg Anishinaabemong. Mii 'i zhigwa Red River ezhi-gikenjigaadeg zhaaganaashiimong. Mii omaa mewinzha gaa-meshkodoonamaadiwaad anooj gete-anishinaabeg. Nimamikwenimaag ingiw Očhéthi Šakówiŋ Oyate miinawaa Aniibiminani-ziibiwininiwag. Geyaabi nawaj ninanda-gikendaamin geniinawind ge-izhi-ganawendamaang weweni gidakiiminaan, ginibiiminaan gaye.
Dakota Maḳoce
Plains Art Museum Dakota ḳa Kahatoƞwaƞ anoƞkataƞ iyakapi. Ehanna Dakota Oyate Mni Ṡa nakuƞ sampa Dakota tokṡa iṡa umpi. Mde hadakiƞyaƞ. Mni owasina waziyata kaduza. Plains Art Museum Wakpe Ṡa kahuda yake. Mni Dakota Oyate yaoƞihampi ṡa kahuda yake.  Mni Dakota Oyate yaoƞihampi. Wakpa Ṡa he woakapi ota.
Plains Art Museum and the Native American Programs wishes to acknowledge Alex Kmett, Leech Lake Band of Ojibwe, Dr. Rebecca Theisen, Ph.D., and Clyde "Joe" Williams, Waȟpéthuŋwaŋ Dakota of the Sisseton Wahpeton Oyate, for their generosity of language and understanding, of which this document would not be possible.