This turn of the century warehouse was acquired in 1994 and renovated into the beautiful and accredited art museum it is today. With its combination of historical and new architecture, Plains Art Museum provides event spaces that are perfect for meetings, conferences, dinners, receptions and many other corporate and private events.
Our facility was recognized in Martha Stewart Weddings magazine as a premier North Dakota wedding destination.
Since our grand opening in 1997, the Plains Art Museum has hosted over 300 wedding receptions in our beautiful and historic facility. From elegant cocktail parties for 450 guests to intimate family gatherings of 50, we can accommodate the unique aspects of your perfect reception. Your guests will enjoy a memorable evening with friends and family surrounded by the charming characteristics and artistic aspects of our celebrated facility.
The Plains Art Museum offers full-service catering for any event through our preferred catering companies, with each company chosen specifically for their professional and quality services.
Our executive spaces are ideal for business gatherings. We can accommodate various sizes of groups with spacious classroom or open seating within a comfortable, professional, and creative environment. Our spacious and semi-private 3rd floor area is also suitable for presentations, lectures, training sessions, and seminars.
Our spacious areas on first and third floors can entertain memorable gatherings within an inviting atmosphere of professionalism and incomparable charm.
Our third floor raw space serves as an excellent area for photography. With its large amounts of natural light, aged hardwood floors, and exposed brick walls, this space will compliment any type of photography.
Photo Shoot Guideline
Please download and sign before shoot.
EVENT SPACES
We offer several unique spaces within the museum for your event needs.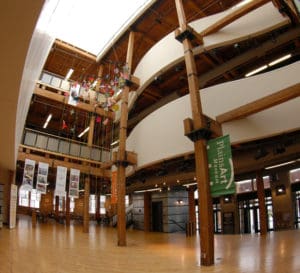 The Landfield Atrium
The Ruth and Seymour Landfield Atrium is located on the first floor which looks upward to a beautiful skylight. The Atrium can accommodate up to 125 guests seated for a formal dinner and is the ideal location for a cocktail style reception and an evening of dancing.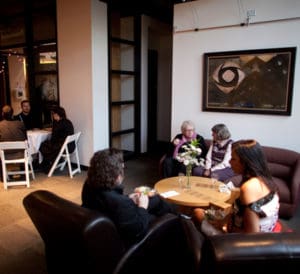 Gate City Presentation Center
Gate City Presentation Center is a private space located on the 1st floor of the Museum. This room can accommodate powerpoint presentations and formal classroom lectures. It's also a great place for business luncheons and/or dinner parties up to 40 people.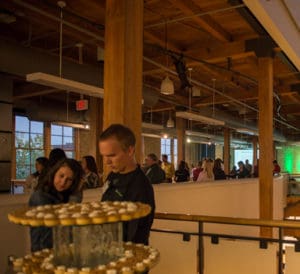 3rd Floor Space
3rd Floor is a non-private space that works well for larger meetings, conventions and powerpoint presentations. It is an ideal location for corporate dinners and wedding receptions.
Amenities include:
Wireless internet throughout the building
Opportunities for interactive art activities in the Goldberg Art Lounge
Large windows with views of historic downtown Fargo
Dramatic architectural features like towering beams, distressed hardwood flooring and original brick surfaces
Contacting Our Event Coordinators:
Our event coordinators will arrange the details of your reception according to your needs and desires, mindfully managing your event from beginning to end.
Penny Solum, Events Manager
701.551.6117
psolum@plainsart.org
Serena Bouta, Events Coordinator
701.551.6128
sbouta@plainsart.org
Logistics:
Types of Functions Accepted
Wedding Receptions
Wedding Ceremonies
Holiday Parties
Meetings
Graduations
Adult Birthday Parties
Corporate functions
Conferences/Seminars
Rehearsal Dinners
Types of Functions Not Accepted
Partisan agenda meetings
Retail/Sales activities
Religious meetings
Fraternity/Sorority parties
Proms
Fundraisers
Restrictions
No smoking
No candles
No animals (except assistance dogs)
No helium balloons
No confetti
No tape/tacks on painted surfaces
No outside liquor
Decorations, props, and invitations/marketing materials must be approved by Museum staff
Parking is free and provided on the south and west sides of the Museum.