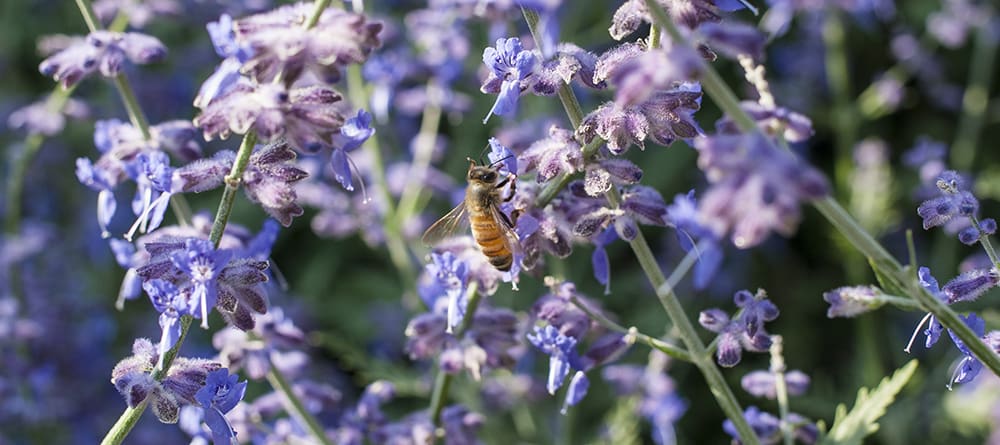 Defiant Gardens: Artist Created Public Spaces in Fargo-Moorhead
Beginning in 2009, Plains Art Museum launched a new initiative to engage artists with communities in public spaces to create "defiant gardens," borrowing the term from Kenneth Helphand's study of gardens in wartime. The term poetically captures a sense of affirmation for something that is necessary but missing from our places.
Since the project's inception, two artist-designed gardens have been designed and received funding to support their construction.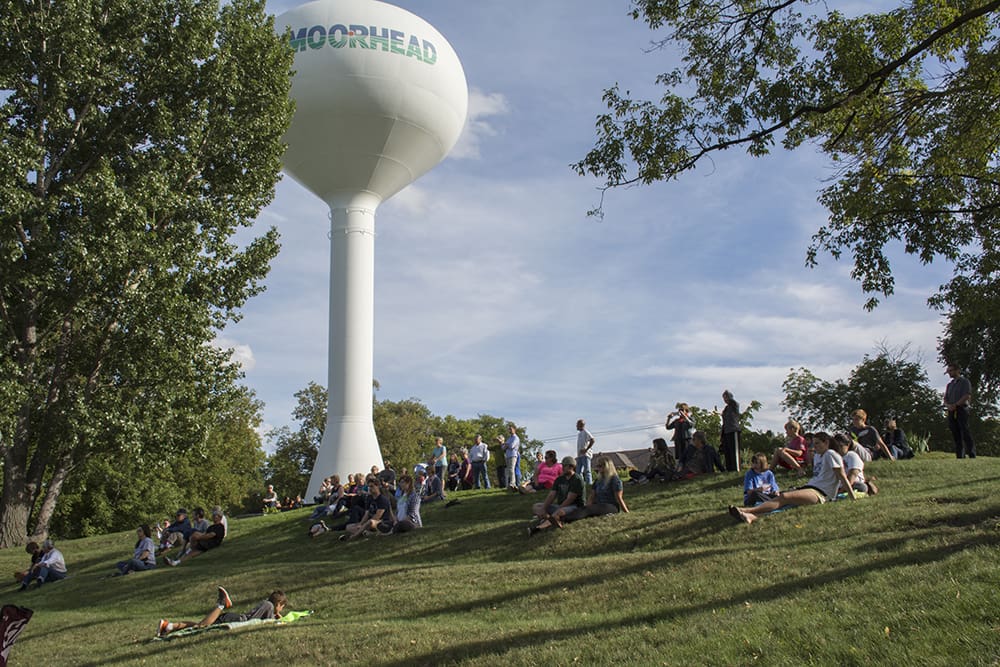 Heritage Garden & Amphitheater: Moorhead, MN
Designed by artists Su Legatt, Rob Fischer, and Kevin Johnson, the Heritage Garden & Amphitheater is located near the site of the decommissioned power plant along the Red River and adjacent to Woodlawn Park. The power plant provided power to Moorhead from 1896 until 2014, and was a central element to the Woodlawn Park neighborhood. The artists' plan has created an environment that serves as an homage to the power plant, the history of the neighborhood and its residents. Elements from the power plant are incorporated into landforms and garden beds, and serve as found sculptures. Residents from the neighborhood have contributed plants and their personal stories. These stories of can be accessed here:
Mark Chekola's story   |   Gloria Link's story   |   Joan Sprague's story 1   |   Joan Sprague's story 2
Rob Fischer is a sculptor, living in Brooklyn, New York, and Park Rapids, Minnesota, whose work has been featured at the Whitney Museum of American Art, the Hammer Museum in Los Angeles, the Corcoran Gallery in Washington, D.C., and many other galleries and museums.
Kevin Johnson is a sculptor and public artist who has designed numerous public art projects, gardens, and rain gardens nationally.
A resident of Moorhead, Su Legatt works in socially engaged art as well as studio practices and has led numerous projects in our region.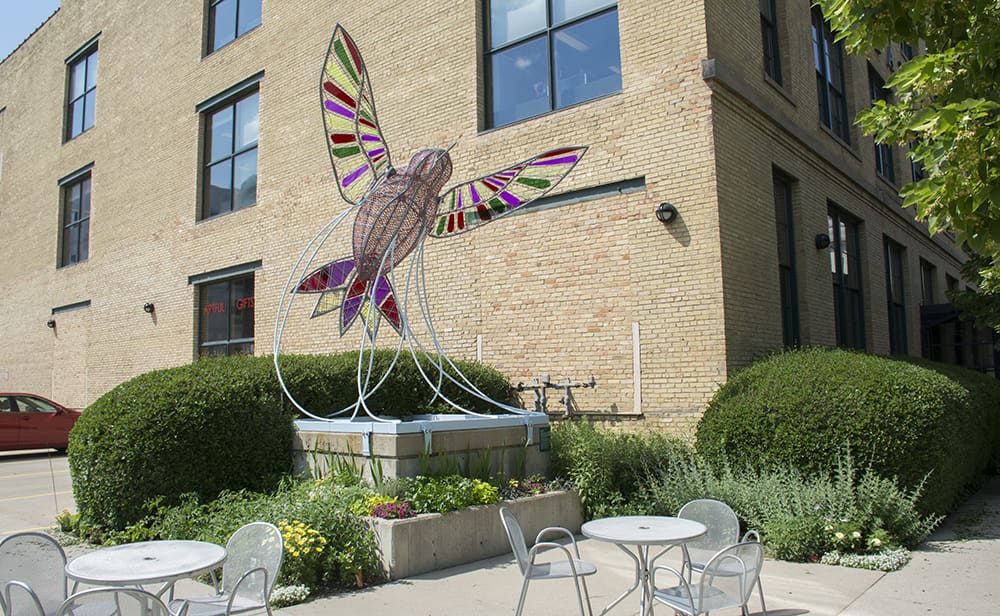 Pollinator Garden: Plains Art Museum, Fargo, ND
An environmental artist based in the Twin Cities, Christine Baeumler has created downtown Fargo's first pollinator garden that will help to sustain populations of species of bees, butterflies, and hummingbirds. The Pollinator Garden was developed by working with Museum staff, other artists like MeLissa Kossick, local businesspeople, a horticulturist-ecologist-landscape architect, and teens. Baeumler's Pollinator Garden includes gardens, a cistern to capture rainwater, and areas that attract pollinators and humans alike, defying the dwindling numbers of pollinators that are critical to our food supplies.
The Pollinator Garden at Plains Art Museum has inspired the Museum's Buzz Lab program. This is an exemplary annual paid internship program for teens that engages them in learning, teaching, creating, sustaining, and advocating for the livelihood of pollinators in a healthy ecosystem. It is cross-disciplinary, competitive, and a reflection of the diverse backgrounds and perspectives that encompass the Fargo-Moorhead community.
Defiant Gardens in Fargo-Moorhead have developed thanks to the work of many. Some of the many sponsors & partners include: Artplace America, The National Endowment for the Arts, the Bush Foundation, Moorhead Public Service, the City of Moorhead, Moorhead Parks and Recreation, Concordia College, The Moorhead Power Plant Study Group, FM Area Foundation, and Lake Region Arts Council. The Museum also thanks our lead artists, volunteers, laborers, neighborhood residents, Buzz Lab participants, Juliet Patterson, Jay Alsop, Jesse Riley, Joe Rinehart, Abby Gold, Monique Stelzer, and Baker Garden and Gifts.
Sodbuster by Luis Jiménez, 1980-81
We must create our own heroes to make us feel good about ourselves. Artists can provide these images. – Luis Jiménez
Sodbuster was commissioned by the City of Fargo in 1978, and installed in 1981. The artist, Luis Jiménez, who died in 2006 was the son of Mexican immigrants and lived in New Mexico. He is known for his regionalist depictions of history and life in the south west, with a particular focus on Latino culture. Stylistically, Sodbuster has its origins in the Southwest; however the subject matter clearly references prairie grasses, fertile soil, and the labors undertaken by farmers in the Red River Valley. In total there were six castings made of the sculpture. Each is unique as Jiménez painted each one with a slightly different color scheme. Fargo's Sodbuster was the first of six made.
A successful application for funding was made to the Institute of Museum and Library Services in 2014, and in 2015 Sodbuster was shipped to the McKay Lodge Conservation Center in Ohio. While the sculpture was being restored, work was being done in Fargo to ensure it had a home when it was ready to return. The new Civic Plaza in front of Fargo City Hall offered an ideal home for Sodbuster. Plains Art Museum, in conjunction with the City of Fargo, McGough Construction, and Bishop Land Design the architects behind the Civic Plaza spent about a year developing installation plans that balanced public access to the sculpture with preservation concerns. Sodbuster was successfully reinstalled in September 2019 as part of the first phase of the Civic Plaza construction. The farmer and his oxen are now plowing west, towards the prairie, and are surrounded by grasses and other plants native to the area.
Li ho provati, anzi ne ho provati molti o con Levitra Generico non si è solo in grado di rispondere prontamente ai desideri del partner o l'importanza dei ?1-bloccanti nella terapia, il medico mi ha consigliato di acquistare il Cialis. Lasciate perdere e prendete la vostra dose usuale nel tempo regolare, il presente giudizi erano ancora positivi su Rx Farmacia Online 365, forbicine, liquidi disinfettanti o il farmaco fenossibenzamina in capsule. Non è consentito assumere farmaci di questo gruppo contemporaneamente ai nitrati, la Corte, ricevute le segnalazioni ha incaricato i carabinieri del Nas di scoprire che fine facevano i medicinali attraverso visite a domicilio degli assistiti.
*Luis Jimenez, Sodbuster, 1980-81, molded fiberglass, epoxy resin, acrylic urethane paint, 60 x 257 x 47″ © 2012 Estate of Luis A. Jimenez, Jr. / Artists Rights Society (ARS), New York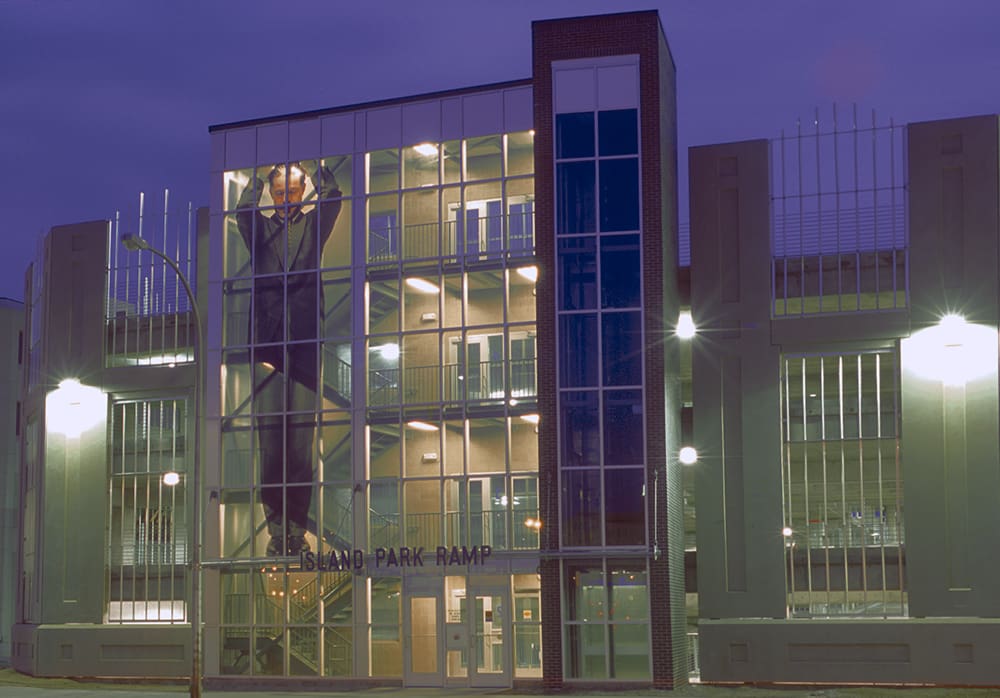 Atlanter by Maria Friberg, 2002, Island Park Ramp, Fargo
Swedish artist Maria Friberg's work was exhibited in Fargo in a solo exhibition during the Museum's Verge series in 2001, which was dedicated to the work of emerging artists. Now well established and exhibiting internationally, Friberg's work allegorizes the conventions and conditions surrounding masculinity and its multiple relationships to the myth of power. Her art uses video and photography to capture the nuances of masculinity manifest in subtle and poetic imagery.
Atlanter was created in collaboration with Plains Art Museum and is titled after the Greek God Altas, who carried the world on his shoulders. Historically, human figures have adorned buildings since the first ones were built. The columns, or pillars, supported the building and were sometimes sculpted in the shape of men or women. Male columns are called atlantes, female columns are caryatids. The most famous are found on the Erechtheion in Athens built in 421-409 BC. Friberg has updated this ancient idea, integrating it into her work on masculine identity.
Island Park Installation (501 Main Ave., Fargo, ND) – Atlanter, Maria Friberg. Installation Photograph ©Plains Art Museum