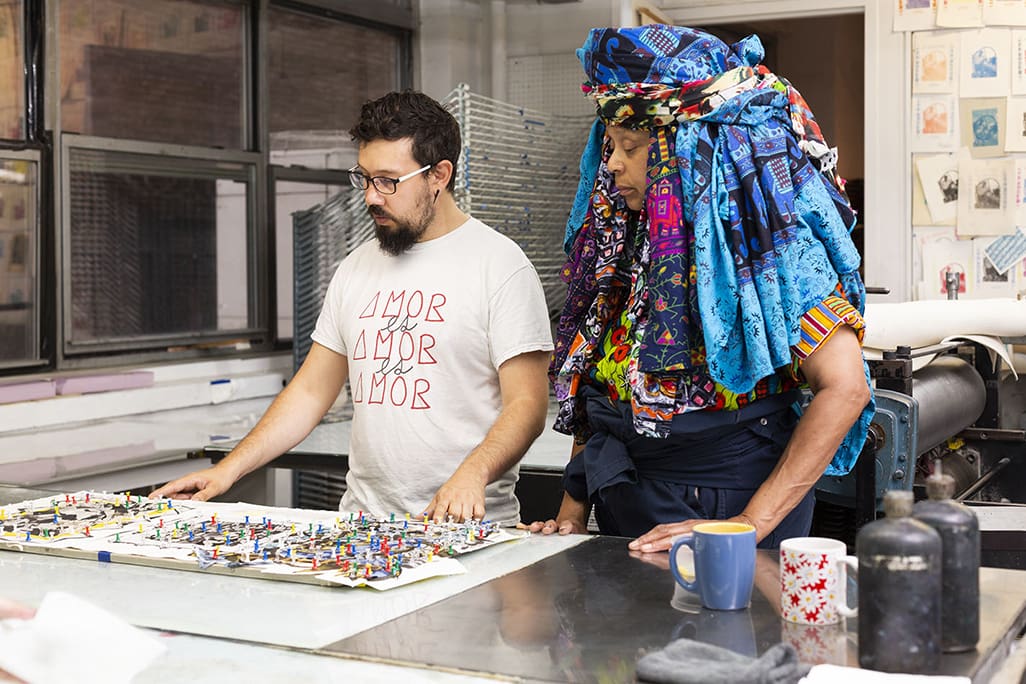 Chakaia Booker and Justin Sanz
December 6-10, 2021
Plains Art Museum in partnership with Elizabeth Foundation for the Arts Robert Blackburn Printmaking Workshop is honored to announce our winter artist in residence. During the week of December 6th through 9th, stop in at PEARS (Printmaking Education and Research Studio) at NDSU Renaissance Hall to learn about the fine art of printmaking. During this time Booker and Sanz will be working with visual art students from Noon to 4 pm to create an edition. Check out plainsart.org or social media to learn more information about this week. 
Chakaia Booker is the recipient of numerous awards, grants, and residencies including the Pollock-Krasner Grant, The Joan Mitchell Foundation Painters and Sculptors Grant, and a Guggenheim Fellowship. Her works have been exhibited throughout the United States, and at the: 2000 Whitney Biennial; Smithsonian American Art Museum in Washington D.C.; Museum of Fine Arts, Boston, Massachusetts; Snite Museum of Art at Notre Dame, South Bend, Indiana; as well as in Europe, Africa, and Asia. Booker's work is in some of the most prominent art collections in the world such as: The Metropolitan Museum of Art, New York, NY; National Museum of African American History and Culture, Washington, D.C.; and the National Museum of Women in the Arts, Washington, D.C. Booker earned her BFA in Sociology from Rutgers University, and an MFA from the City College of New York (CUNY). Booker lives in New York City and her studio is located in Allentown, Pennsylvania. In addition to her sculpture and prints, she is acclaimed for her personal wearable sculpture.
Booker has worked with the legendary Robert Blackburn Printmaking Workshop since 2009 and with master printer Justin Sanz in creating over 200 unique and multi-dimensional abstract landscapes which are simultaneously rooted in improvisation, aesthetics, and universality.
---
Check back for programs.