Jason Moore
October 29 – November 2, 2018
Hannaher's, Inc. Print Studio hours: 10 AM – 5 PM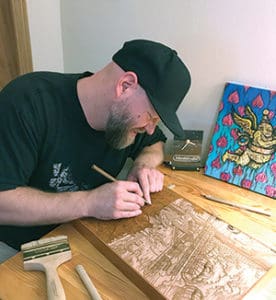 Hannaher's Inc. Print Studio invites you to drop in and see artist in residence Jason Moore at work. During these open studio hours, Moore will be available to discuss his printmaking process and show his work.
Jason Moore is a well-known and highly regarded artist and printmaker based in the Fargo area. His highly detailed, surreal narratives have developed over decades of commitment which started in 1996 through courses provided at North Dakota State University (NDSU). Moore received his BS in Art at NDSU in 2000, and his MFA in printmaking at the University of Iowa in 2005. He is currently teaching environmental design drawing as a part-time lecturer at NDSU.
Workshop
October 29 – 31, 5:30 – 8:30 PM
$75 / 60 Members
An intensive three-day workshop provided by the Hannaher's, Inc. Print Studio artist in residence Jason Moore will introduce to the art of traditional woodcut printmaking. Participants will design, cut, and print their own edition of fine art woodcut prints. In addition, each participant will take part in a portfolio exchange of each other's work, and will receive a woodcut print developed by Jason Moore specifically for this exchange.
Artist Talk: Jason Moore
Thursday, November 1, 6 PM
Free and open to the public
Artist in residence Jason Moore will present an overview of his artistic practice.
Artists in Residence are generously sponsored by the Bush Foundation.