Guillermo Guardia
June 2 – 9, 2019
Stop by the Center of Creativity during regular business hours to observe and visit with Guillermo Guardia during his residency.
Guillermo Guardia received his BFA in industrial design from Pontifical Catholic University of Peru in Lima, and both his MFA in ceramics and MS in industrial technology from the University of North Dakota in Grand Forks, North Dakota. Originally from Peru, Guardia currently lives and works in St. Paul, Minnesota. He creates figurative sculptures, integrating pattern and form, which are influenced by art history, his upbringing in Peru, Catholicism, his transition to living in the United States, and political events. Guardia has exhibited nationally and was awarded a fellowship from North Dakota Council on the Arts and a residency at the North Dakota Museum of Art. His work is featured in the permanent collection of North Dakota Museum of Art in Grand Forks, North Dakota, and Fundación Puntos de Encuentro in Bogota, Columbia.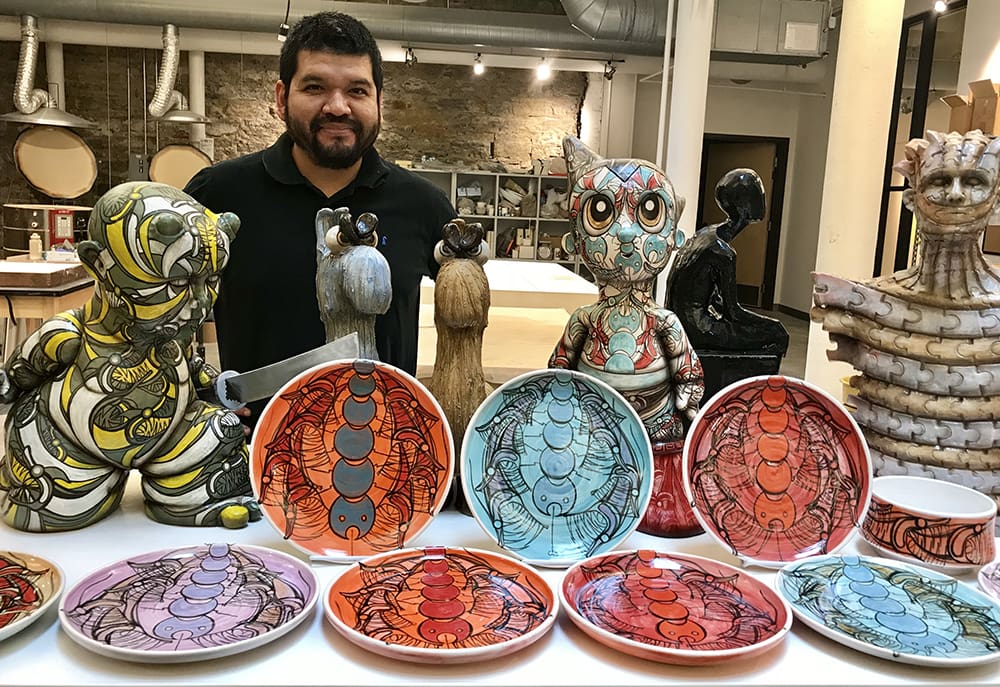 Exhibition: Guillermo Guardia: Recent Works
June 3 – August 31, 2019
Freestanding Animal Sculptures
Two day workshop: Monday and Wednesday, June 3 and 5, 6 – 9 PM
$85/ $68 members
Guillermo Guardia utilizes animal figures in his art work to help communicate political and social statements. Learn about his process of envisioning, building and decorating in this two-night workshop. Participants will choose an animal from North Dakota (or other region) they identify with, and explore what that animal represents to them. Each participant will then learn to hand-build a freestanding 12-15" figure in clay. The workshop will emphasize proportions, structure, expressive gesture and texture. Participants will also learn fine detail finishing techniques, as well as underglaze application. Sculptures will be fired and returned to participants after the workshop. Click here to register.
Artist Talk
Thursday, June 6, 6 – 7 PM
Guardia will discuss his artistic evolution and new body of work, Memories of Home.
Artists in residence are generously sponsored by the Bush Foundation.